We went and got our new rabbits yesterday! This is Daisy and Trixie.. Don't really know which is which, but I'm calling the one that's slightly more nervous Daisy and the calmer one Trixie.. Hubby helped me take pictures..
Daisy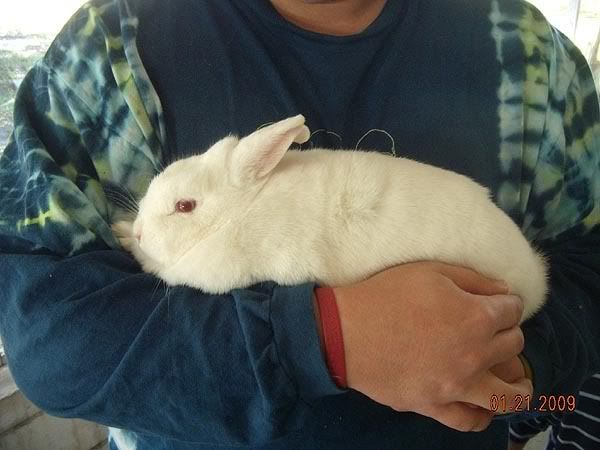 Trixie
This is my 5 yr old daughter holding Trixie to give you an idea of their size.. They are 10 months old and might get a little bigger, but I think their max is 5 or 6 pounds..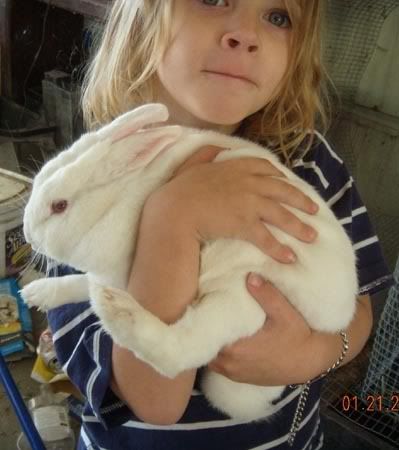 Have them in small temporary cages right now.. Will make new cages when hubby gets paid again and then I'll take new pics of them in their new homes.. Then hopefully in a month we'll have baby bunnies, and 3 or 4 months after that we'll have rabbit stew.. Sorry if that offends anybody, but the point of my farm is to provide food for my family..
Speaking of food.. My garden is kaput.. We had a hard freeze last nite and the squash and corn plants (the ones that were doing the best) are now dead.. So I guess I'll be tilling up the whole thing and trying again.. But this time I'll add all the wasted hay from the goats, any goat poo pellets that is in it, and hopefully rabbit poo pellets soon also..
Oh, and the guy pointed out a name on the pedigrees that he got his breeding stock from.. He said that breeder was one of the top breeders of Florida whites in the state..